How to do RV battery charging? This is a 'simple' but actually not 'simple' question. We all know that there are 2 main types of batteries for RVs. One is the starter battery, which is the battery we use to start the RV, and will not participate in the electricity consumption of other equipment in the RV; the other is the energy storage battery. All the electricity used in the RV is provided by energy storage battery. It is undeniable that in our daily driving and traveling, we will continue to consume the power of these two batteries. Eventually our batteries will dry up and we will have no electricity available. How to avoid this situation and what ways to do RV battery charging is what we need Something to consider.
RV battery charging methods can generally be divided into 4 types, solar charging, shore power charging, fuel generator charging and driving generator charging. These are the more popular RV battery charging methods at present, of course there are some other charging methods.
Photo Credit: Smallrvlifestyle
This is currently the most popular and coolest RV battery charging method. At present, many people will install a complete solar system on their RV. The advantages of using solar energy to charge RV batteries are:
We all know that solar energy is clean energy. Charging in this way is very environmentally friendly and has a great contribution to protecting the environment.
The sun is our inexhaustible energy source. As long as there is sun, the energy storage battery can be charged, which is very convenient.
Charging the energy storage battery in this way can effectively protect the battery and avoid battery loss.
Nobody wants noise disturbance during their journey. Solar charging is very quiet and can ensure your good mood.
However, solar charging also has certain disadvantages. For example, the amount of power generated mainly depends on the efficiency of solar panels. Generally speaking, the larger the solar panel, the higher the power generation efficiency. In fact, the roof of our RV is relatively equal. It's not big, so there will be certain restrictions. In addition, it's impossible to generate electricity on cloudy days or at night, because solar panels rely on solar radiation to generate electricity. Finally, a solar system suitable for RVs may cost more. If you don't use the motorhome often, it may not be cost-effective.
Photo Credit: Chaohuiwan RV
This is a mainstream and traditional way of RV battery charging. You don't need to think about too many things, because it is as simple as charging your mobile phone when it runs out of power. The advantage of this charging method is very obvious, as long as there is a socket, it can be charged, and there is no restriction. But the disadvantages are also obvious because shore power is considered a luxury during travel, you can never guarantee that there will be campsites and charging piles during your trip, especially when you go to some unfamiliar wilderness, often there is no shore power at all.
This is also an effective way for RV battery charging. The fuel generator is very traditional, just like our fuel car goes to a gas station. Although it is very convenient, as long as we have fossil fuels, we can generate electricity anytime, anywhere, but this means that we need to buy fuel to generate electricity all the time, which is a big expense, and carrying a lot of fuel will increase the burden of our RV, counterweight The problem requires more consideration. However, the environmental pollution caused by oil-fired generators is actually great. We are currently advocating a green life. Obviously, this does not meet our expectations. Finally, the noise of the fuel generator is very loud, and it will inevitably have an odor, which will significantly affect our mood when traveling.
Driving Generator Charging
This is a very common way of RV battery charging, and it is also a charging method that many RVs now come with. Generally speaking, between the starter battery and the energy storage battery, there is a device called a DC charger. It's also called 'alternator'. The main function of this device is to convert the kinetic energy generated by driving into electrical energy when the RV is running. Charging batteries. The advantage of this charging method is very obvious, that is, it is very convenient. As long as your RV is driving, then your battery can be charged. But there are also disadvantages. The electric energy converted through this form of conversion can't actually meet the use of our RV, and it cannot generate electricity when we park, and the power generation will also be affected by driving conditions. Generally speaking, it is more suitable for auxiliary charging.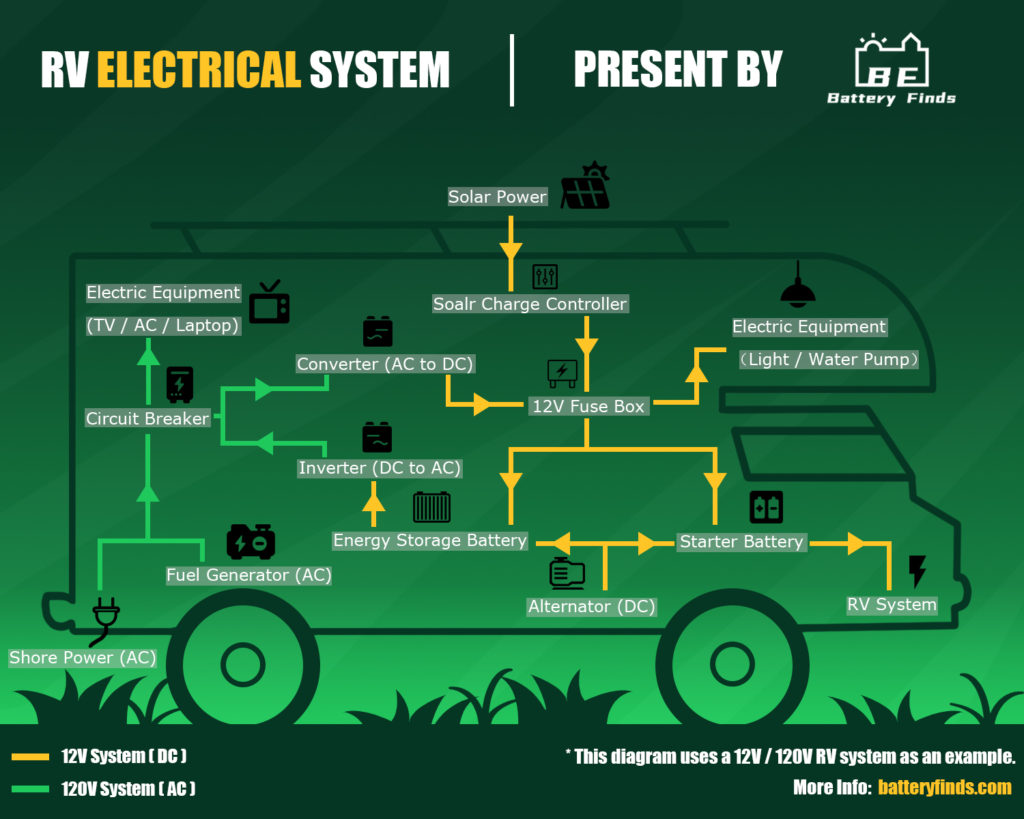 RV battery charging is actually not a single one. Through the above information, you will find that many charging methods are actually complementary. No charging method is perfect. We can use solar charging while also using driving generator charging, which means we need to make reasonable planning to keep our RVs with sufficient electricity, and we also need to judge how to use electricity based on actual scenarios to ensure that our travel has electricity. As long as we do, I believe we can definitely enjoy the journey more.