The just-concluded Shanghai Auto Show turned out to be a battlefield where new energy vehicle companies competed to flaunt their latest offerings. While major brands unveiled their new models one after another and various news and hot topics surfaced continuously, the show was still dominated by the unstoppable trend of electrification replacing fuel vehicles.
As one of the leading companies in the new energy vehicle industry and known as the "Ning Wang (Meaning The King)", CATL showcased its latest advanced battery technology at a dedicated exhibition area, together with fuel vehicle giants like Toyota and Ford in the same hall. It is self-evident that CATL came prepared to unveil its killer product.
True to expectations, CATL launched its condensed battery at the show. By using a highly conductive biomimetic condensed electrolyte instead of the traditional liquid electrolyte used in lithium batteries, the energy density of condensed battery reaches up to 500 Wh/kg, nearly double the 300 Wh/kg of the highest-energy lithium battery cells currently in mass production. This means that with condensed batteries, electric vehicles can travel much farther on a single charge using smaller battery packs. CATL Condensed batteries are likely to become the most valuable batteries currently available.
According to CATL, due to the small size and high safety of condensed batteries, they will first be used in the aviation field, specifically for manned electric aircraft. The automotive version will also achieve mass production capability within this year.
It should be noted that lithium batteries have not changed much in essence for decades. The so-called solid-state batteries have remained at the conceptual and futures level. CATL's condensed batteries, with their excessively powerful data, are likely to become an important milestone in the development of power batteries. There is a sense of "while others are still bragging, I have already achieved it".
In fact, in the more than ten years since CATL was founded, there have been many examples of "not playing with concepts, just landing products" like condensed batteries. For example, the well-known Qilin batteries.
In order to solve the anxiety about the range of electric vehicles in recent years, many automakers have claimed that their products can achieve a range of over 1,000 km. But a close look shows that either impractical solid-state batteries are used to play with concepts, or simply larger battery packs are used. The range is longer but the vehicle is significantly more expensive.
CATL, on the other hand, redesigned the internal structure of batteries from the ground up and launched CTP technology in 2019. In 2022, it launched the Qilin battery, achieving a system energy density of 255 Wh/kg for ternary lithium batteries, making it one of the ternary lithium batteries with the highest energy density. And this technology has already been applied. The XPeng 001 equipped with Qilin batteries can easily exceed 1,000 km and will be delivered this year.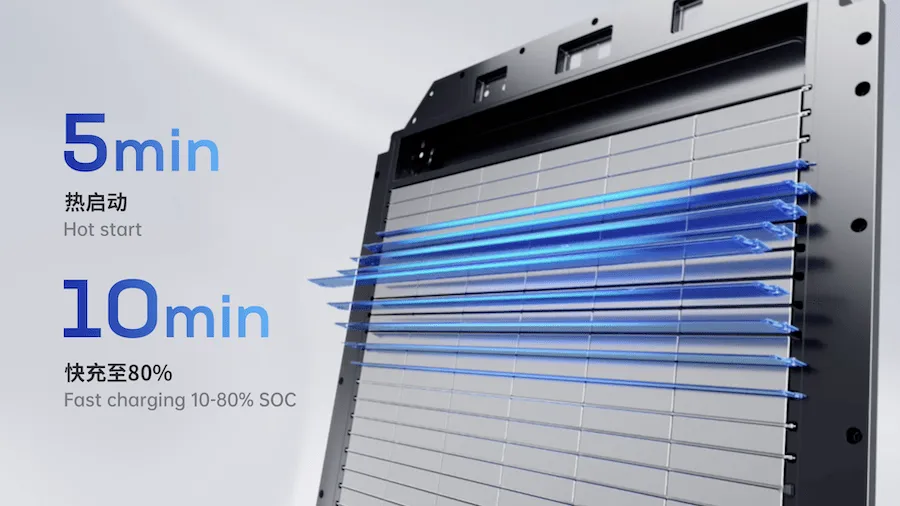 IDEAL, which recently cooperated with CATL, said it will use Qilin batteries that support 4C charging, which only takes 10 minutes to charge for 400 km. The speed of recharging is almost comparable to refueling. It is very reasonable for Qilin batteries to be named one of the best inventions of 2022 by Time Magazine.
Another example is sodium-ion batteries. Similar to lithium-ion batteries, sodium-ion batteries are also an important technological route. They have many advantages, such as low cost of raw materials, high safety, less temperature dependence, and very suitable for fast charging. However, the disadvantages are lower energy density and cycle life, which at first glance does not seem suitable as a power battery. As a result, sodium-ion batteries have not been favored by most automakers.
But when the price of electric vehicles rose with the price of lithium, people realized that the scarcity of lithium carbonate resources greatly limits the development of electric vehicles. Therefore, in 2021, the Ministry of Industry and Information Technology issued the "Proposal on Vigorously Developing Sodium-ion Batteries in China", proposing to support sodium battery-related technologies and enterprises, and make full use of the cost and resource abundance advantages of sodium ore.
A few months before the proposal was released, CATL took the lead in releasing its first generation of sodium-ion batteries. Although the energy density of 160 Wh/kg still lags far behind that of lithium batteries, according to Wu Kai, CATL's chief scientist, it has very good low-temperature performance and fast charging performance. Will the dream of driving an electric car come true for people in low-temperature areas?
To make up for the shortcomings of sodium-ion batteries in energy density, CATL has cleverly developed the AB battery system, which mixes sodium-ion batteries and lithium-ion batteries in a certain proportion to ensure performance while optimizing costs. Just hearing about it sounds very powerful. Guess what, this technology has also landed…
In April this year, CATL announced that its sodium-ion batteries will be used in Chery's models and will be launched on the market this year. Barring accidents, these will be among the world's first mass-produced sodium-ion power batteries.
Through these stories, it is evident that CATL not only has many ideas but also extremely strong implementation and landing capabilities. CATL can not only talk the talk but also walk the walk.
In my view, the reason why CATL has such strong landing capability and has achieved its current position is mainly because CATL does not want to just follow the crowd at heart, but wants to be a leader.
For example, when everyone else composed modules with battery cells and finally assembled them into battery packs, CATL had to make module-less CTP technology. Not only did it start from the bottom structure and integrate the cells into the battery pack, but it also increased the volumetric energy density of the battery pack from about 40% to 55%, which means more batteries can be placed in the battery pack.
The Qilin battery we mentioned earlier is actually the third generation of this technology. Now, almost all electric vehicles use module-less CTP design. It is evident how advanced this idea is, like the top student in the class that everyone is eager to copy homework from.
In order to stay at the forefront of battery technology, CATL has also spent a lot of money. For example, R&D expenses. In the last three years, CATL's net profit attributable to shareholders was 5.583 billion yuan, 15.931 billion yuan and 30.729 billion yuan respectively. R&D investment was 3.569 billion yuan, 7.691 billion yuan and 15.51 billion yuan respectively. Doubled revenue requires doubling R&D investment!
According to public data, the average salary of CATL's R&D personnel has increased from 254,800 yuan in 2020 to 342,500 yuan in 2021 and 376,000 yuan last year. It is obvious that CATL's thinking is: no matter how bitter it is, technology cannot be stingy, and R&D cannot be poor!
As a result, according to data from South Korea's SNE Research, CATL accounts for 37% of the global market, meaning that more than one-third of new energy vehicles worldwide use CATL batteries. Far ahead of BYD and LG in second place (13.6%), CATL firmly ranks first in the world.
The reason why these brands choose CATL is simple: CATL is not only at the forefront of technology, but also has an extremely powerful supply chain.
In my opinion, CATL is such a role. It is precisely because CATL has never been swayed by the general environment and has been working hard to turn cutting-edge technologies into products that can really land, that it has enabled the rapid development of the battery industry in just over ten years since its founding.
What new gadgets can CATL bring us in the next ten years? It is really something to look forward to.